Testimonial
Dr. Chaitasi reminded me of my caring sister. Not only was she a knowledgeable doctor, she was also a warm person who cared about evey aspect of my surgery. Not many doctors do that these days and to see Dr. Chaitasi involved in every aspect made me more at ease and gave me comfort before my xxx surgery.

Payal

Chaitasi - Someone Relating To The Mind & Heart, Often Relying On Intuitions For Decision Making.
True to your name, you have made a special place in our hearts after having facilitated the process of giving us the greatest joy of our life, our daughter.
You have been a doctor, friend, guide & a trendsetter, all in one. Someone, whom we found confidence in, right from the day we met. Your desire for achieving total satisfaction for your patients health, & the firm conviction to not settle for anything less but the best, makes you stand out from the rest. Your age, is a factor, that makes you a potential super surgeon in the making, & the constant hard work & running around that you do, leaves no place for any complacency & gives plenty of scope for further success.
Other than the talent that you carry as a doctor, your success as a mother, makes you another role model for all those working women out there & the way you live the life to the fullest, is a quality, that you should nurture forever.
Chaitasi, You Do Full Justice To The Profession You Are In, & Also Make This World A Better & Beautiful Place With Your Presence.
Thank You, For "Delivering" Us Happiness!

Nitisha- Abhivandan Lodha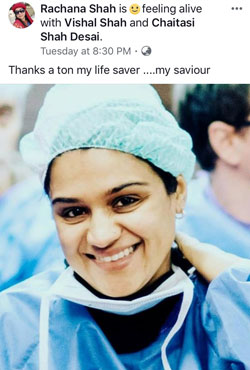 Rachana Shah